Billboard Magazine
The New Yorker
J. David Silva, Sr.
Amazon.com Reviews
VP: Press Release
Steven Ivory

Publicist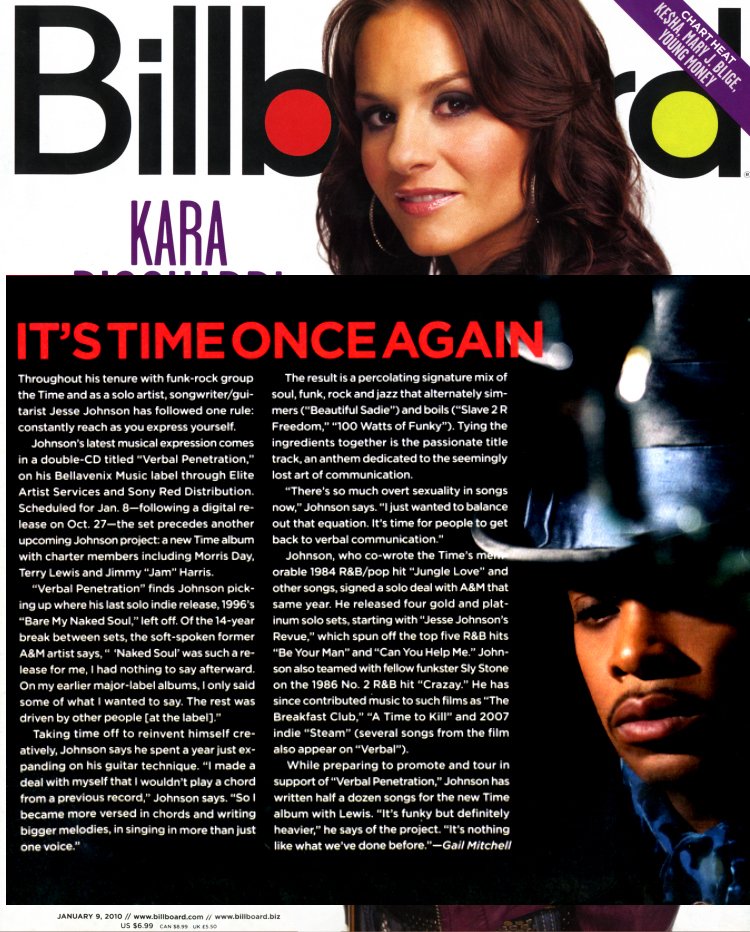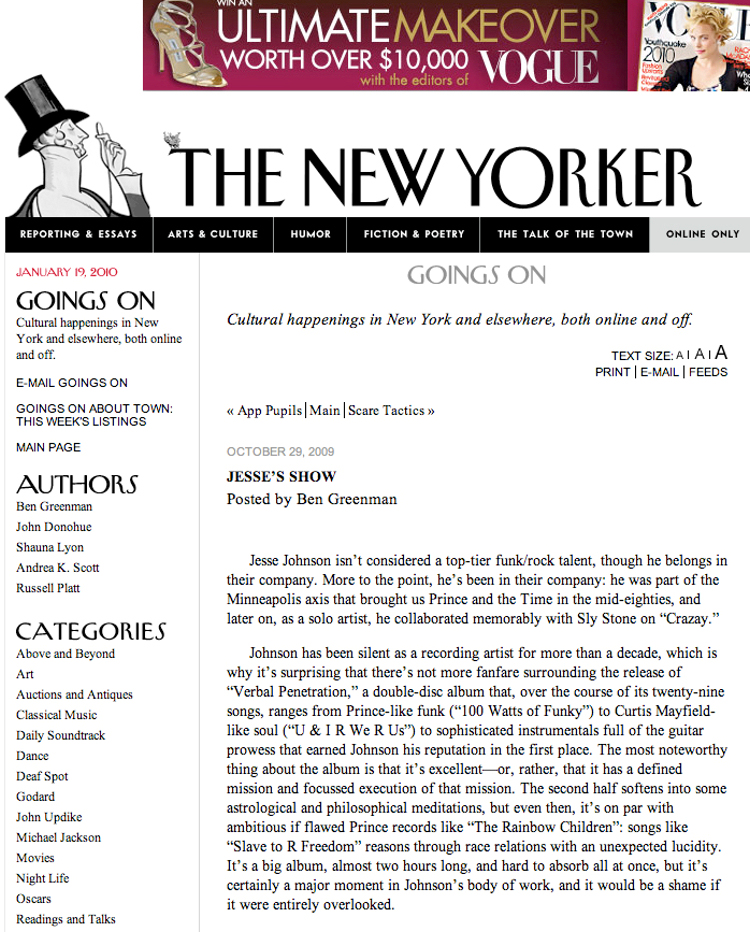 Verbal Penetrates the Soul
Verbal Penetration, Volume I & II
Jesse Johnson (Bellavenix Music)







By J David Silva, Sr.

Jesse Johnson has arrived.
Not "arrived" in the sense that he has finally found musical success. That happened almost 20 years ago when, as an original member of the seminal funk -rock group The Time, the guitarist melded snaky funk riffs with hard driving accents to help blur the lines between so called "black" and "white" music and create one of the most electrifying sounds of the eighties and early nineties. Johnson continued along this path by forging a successful solo career after leaving The Time. Through such albums as "Jesse Johnson's Review," Shockadelica," "Every Shade of Love" and the terrific "Bare My Naked Soul", Johnson deftly continued creating an extrordinary brand of funk, rock and pop that showcased his mastery of each of these musical styles.
But on his latest release, the stunning, 2 disc, 29 track "Verbal Penetration Volume One and Two," Johnson has reached a point of creative utopia. What has come before seems to have brought him to the place he is now.The artist still blends styles and defies labels, but he appears to do so now from a point of musical nirvana. At times the results leave the listener absolutely breathless.
From the opening groove of the title track, Johnson is in musical command. Johnson is an excellent guitarist and the songs don't skimp on his talents. "Verbal Penetration" (the song) is a gem, a workout with asense of urgency that includes one of those classic guitar solos. The song builds until you know Johnson is going to explode through his instrument. "Merciful" is an instrumental track again highlighting the artist's guitar prowess. Johnson seems to be one with his instrument; you can feel the passion in his playing, almost see the funk faces he was sure to be making when recording this one. The hard driving "In the Key of Nudity" keeps the guitar heroics going. Like great lovemaking, you actually don't want it to stop.
But Penetration isn't all about Johnson's guitar superpowers; the artist also knows how to blend his instrument into his songs with the right balance. On "Get Next to You" Johnson shows he knows how to hold back. The guitar is subtle, perfectly balanced in the groove. The guitar fills on the jazz influenced "Love Letters" show Johnson's guitar complementing all the other sounds around him. They never threaten to ruin the vibe.
To be fair, however, "Verbal Penetration Volume One and Two" is about much more than Johnson's chops on the guitar. Johnson impresses most when he displays an array of musical genres. "Sheila Rae" is a gorgeous slice of soul/pop/funk."Ali vs. Frazier" is firmly rooted in jazz, an intellectual and passionate piece of musicianship that actually forces listeners to think about what they are hearing. Lyrically, Johnson is also in fine form, touching on a variety of topics, such as unity ("U & I R We R Us"), blindly believing everything we see and hear ('Propaganda"), and social conciousness ("Slave 2 R Freedom.")
The collection also takes chances and shows a striking sense of innovation. "V.P. Credits" takes the artist's thanks usually reserved for the cd's packaging and presents them verbally, over a funky groove. "Reflections" is an "interview" with Johnson, where the musician answers questions put to him, with music in the background. There are also several spoken interludes, some of which serve as bridges between songs. Risky? Yes. Does it work? Absolutely.
The 2 discs close with the instrumental "Peace Be With You (Reprise)", where Johnson seems to be wishing us well and thanking us for taking this journey with him. The song is a rewarding and satisfying close to what appears to be the work that Johnson was born to create. If indeed with "Verbal Penetration Volume One and Two" Jesse Johnson has truly arrived, you would do yourself well to go where he wants to take you. It's a fascinating trip.

J David Silva, Sr.
Verbal Penetrates the Soul
Verbal Penetration, Volume I & II
Jesse Johnson (Bellavenix Music)












Long Awaited, November 2, 2009
By Anonymous42
I've been waiting for this album to drop for a long time. This is a creative masterpiece. Jesse has been behind the scenes for awhile playing guitar for dj quick and battlecat. While the younger generation thinks that these guys are geniuses this is the man that has been making it hot for them in the background in the studio. Just ask them and hopefully they will admit to it. Sonically this album flows like the ocean. I just hope that our generation embarrases it and gives it it's just do.
---




Jesse's First Album in 14 Years: It was worth the wait, October 29, 2009
By Lorie A. Erickson "Bill"
Jesse's First Album in 14 Years: It was worth the wait, October 29, 2009I've been a fan of Jesse Johnson since his 1985 debut; Jesse Johnson's Revue. Since that release every album has had it's own vibe and Verbal Penetration is no exception. VP mixes the rawness of Bare My naked Soul with the groove and funk of his 80's albums. But unlike those albums from the 80's VP sounds timeless, defying any sort of time stamp. After a few songs it becomes very apparent that Johnson is a fan of 70's style funk, harking back to artists like Curtis Mayfield, Eddie Hazzle and Marvin Gaye... with a twist of D'Angelo, which Johnson successfully mixes together without ever sounding trite. It' truly amazing that this far in his career he's able to pull out an album that's so creative... passionate... urgent. The songs range from upbeat funk to gentle ballads to rock instrumentals to mid-tempo tunes. Despite the range of material there's a thread thru out that makes this double disc feel like an album... like one body of work. There are few songs the album could do without but with 29 songs, I think Mr. Johnson is allowed a few indulgences. If you're a fan of the 'Minneapolis Music Scene' you'll find Verbal Penetration to be one of the best releases in a looooong time. This album reminds of the excitement I felt when I first listened to Prince's Sign 'O The Times - yeah, it's that good!
---




From Ear 2 Eternity...., October 29, 2009
BY Mindmatters
Finally, its Jesse's time to shine! If you thought the fun was over, think again! Jesse Johnson is back with a vengeance. His latest song collection continues in the tradition of his past work and exceeds them at the same time. The title track is funkier than anything you'll hear on the radio and the rest will keep you dancing for days. This is the first cd I've purchased in awhile that didn't result in buyer's remorse afterwards. If you like the Time, you'll adore this....
---





Jesse Is Back! October 28, 2009
by M. Irshvara
After years of waiting,Funk is alive!Jesse roars back on the scene with this two disc collection of New Power Funk and Cool Soul music.If you love The Time,you will dig this romp.
---






The most complete Guitar Rock album EVER!!!! January 21, 2007
by Paul Watson (Ireland)
Jesse Johnson is one talented musician. Not only does he play guitar and sing on virtually every track, he also plays bass (even 12 String), percussion and drums on the album. Oh, not to mention that he wrote every track, arranged and produced it too. The Production, I will have you know is Top class too. In his day, Jesse has produced the likes of Janet Jackson and Sheila E to name but two. I expect that Jesse has been solely producing over the past decade as there has been no output from him over that period. BUT, I have just found out that a new album is due out this year. That is a mouth-watering thought. I hope, and I am sure that it will be a continuation of his guitar heroism feats shown on "BMNS". As a fan of Classic guitar Blues and Rock, it is the norm to try and accumulate all the output of your Rock Icon. In Jesse's case, it is very different. His previous releases are definitely in the Glitzy Prince mould, and appeal to a completely different type of fan. I am led to believe that Jesse's dramatic change in style lost him many of his original fans, and that is perhaps the reason this Album is not huge. It's a sad fact in music life. The CD contains 2 Heavily influenced Hendrix Spaced out instrumentals (JUPITER LANDING and NEVERMIND SATURN SUNRISE); 6 Top notch Hard Rock classics (BARE MY NAKED SOUL/MY LIFE/LET ME IN/WALK LIKE ME TALK/SHOCK TO THE SYSTEM and the chestnut that is BRAND NEW DAY); 1 superb Albert King influenced Blues Track (BRING YOUR LOVE DOWN HARD ON ME); 2 tracks in the Funk genre (MONICA and WAR BABIES)and 5 softer heartfelt, mostly acoustical (incl some superb 12 string playing) ballads in the form of (I MISS/YOU DONT LOVE ME THE SAME/CRY LIKE THE SKIES/MR HEARTACHE and BELLA BELLA). Even Billy Cox (Ex Jimi Hendrix Band of Gypsies) makes an appearance on LET ME IN. I was highly impressed with the musicianship, and most notably the backing vocals of Kim Gage who features prominently. As has been mentionned, there is the obvious comparison of Hendrix and Prince, and it works beautifully. There is'nt another musician around like him, and with the spoils of the Internet, there are even videos of him singing live tracks from BMNS on YOU TUBE. There is also the MY LIFE single (Radio edit and LP version which includes an unreleased song. This CD release is an absolute gem. I can hardly wait for his next imminent release.
---





great guitar playing riff master February 17, 2005
Jmip (NYC, USA)
Oh man! JJ is THE riffmaster. He has chops! this is a very,very good guitar CD. Heavily influenced by Hendrix and the Minneapolis Prince sound. The guitar work is versatile from straight ahead rock to slide playing. Standouts: Bare my naked soul, My Life, Shock to the System, Crazy like the Skies, Brand New Day. IF you like guitar playing in a funky, soulful, riff-filled way reminiscient of Jimmy Hendrix......this is a MUST HAVE!!!!!!!!! His lead work is KICKING!!!!!!
---





just total guitar September 23, 2003
James H. Beale
In the first track (akin to Hendrix's "...and the gods made love") JJ speaks the distorted words, "it's more like I'm trying to do something a bit more guitar . . . you know, just total guitar" and even that doesn't sum up the album entirely.
Yes, JJ's guitar speaks with the eloquence of Mercury, bringing messages from another planet. It whispers, moans, cries, sings, screams. Wow. Hendrix is the closest comparison.
But it's not just that the guitar playing is technically superb -- this album is much, much more. The songs are not merely vehicles for display of guitar-prowess, they have something to say, something very personal. JJ has indeed bared his soul here. The words, music, rhythm, song order, all work together in a way that really, honestly take your breath away.
This is a powerful, stunning, knock-you-on-your-keister CD. Buy it!!
---





The last reviewer said it well, BUT I CAN"T NOT GUSH....., November 21, 2006
By ted offensive "ted o." (pacifica, california United States)
.....On my own about the mightiness of this album. Every single rocker on my holiday list this year will recieve a copy of this cd. I will not
pirate or copy, the label and Jesse deserve every cent they can recover from this absolute GEM.
It bears out what I had surmised, that the hints laced throughout the Time's cat. arrive at the word "tasty" in all genres he touches. Especially, all, and I mean ALL facets of the style called "rock".
There is not a better guitar rock record anywhere at any time than this. Songwriting-peerless. Solos- placement, phrasing, texture, approach, variation...STUNNING! The opening two tracks alone tower at the intersection of rock and groove- operate no heavy machinery...I nearly tore my steering column out by its roots.
I must say, in closing, that the fact that this offering- no matter how small the label- did not catapult this player to major recognition in rock circles, proves beyond any doubt how much Black players get NO LOVE. Eddy Hazel, Mike 'Kid' Hampton, Gary Shider, Dr. Know, Vernon Reid, all make Jimi the anomaly. I wish my fellow white rockers would please just get over it, because our racism only costs us more great rock.
JESSE, I HOPE YOU HAPPEN TO READ THIS- and THANK YOU for such a smart, def(t), and rocking record! Ummmm...could we have some more--PLLLEEAAASSSE??!!
-ted.o
---





I love it! , June 6, 2007
By Mabon Hodges II
I'm a huge Jesse Johnson fan! I ordered the CD expecting it to be a good product and needless to say it was just that!
---





Almost no words can express how honored & happy I am 2 have this CD..., January 22, 2006
By Ke (St. Paul, MN USA)
This is Jesse's TRUE playin'..take a break from his 80s stuff & give BMNS a listen. He is just AMAZING, his skills are just mind blowin'. What's cool is when I listen 2 the CD I can sorda getta image of how he'd look playin'/performin' these songs. All the tracks are pure GOLD this is what he's been waitin' 2 do 4 so many years & I'm very happy he did. I only wish 2 see/know what or where are the video singles 4 this CD??--I know some1 told me they think a video single was made 4 "War Babies", but not too sure.
There is NO Mpls. Sound no Prince influenced comparisons on this CD--NONE. The only one who can be compared is Jimi Hendrix, maybe Jesse is a reincarnation of Jimi?--lol maybe not, but styles are very Jimi influenced. If u think the Ultimate Collection is givin' u all the best of Jesse U'RE WRONG. If u don't have ne tracks from BMNS u're missin' out.Each track is apparently very personal & u just feel it too when u listen 2 them.
Prince/The Artist may have released a 3 disc set the same year(Emancipation) but BMNS blows Emancipation outta the water--sorry but this 1 goes 2 Jesse. All respects 2 Prince/The Artist though.
The CD is currently on track 7 "Walk Like Me Talk" just str8 rock in your face! His playin' is too hot! I dunno if it's real fair 2 say if I have favorites tracks from the CD b/c I love'em all. Although "I Miss" & "Nevermind Saturn Sunrise" are in my Creative MuVo mp3 player rotation. If I had an Ipod or a more advanced Creative MuVo mp3 player I'd scan the entire CD on 2 it. Track 15 "Monika" is the one that actually makes me get up & dance it's funkrock & the lyrics are badass'n cool at the same time!
Well, 2 the conclusion this CD is not considered a "completion" of Jesse's official releases--this is one U MUST buy if u want 2 hear his TRUE style. U got Rock, Funk, Rhythm 'n Blues, some experiemental all wrapped in2 one--nothin' more u could ask except 4 2 see a video single. Other than that, get this CD. Sure, the prices are type high ($30 & up) but I promise u it's worth it, no disappointments.
Thank U Jesse 4 makin' this wonderful CD & thanx 2 the people whom inspired him.
---





UNBELIEVEABLE!!! JESSE JOHNSON, July 28, 2003
By Michael A Polani "The Teacher" (Antioch, Ca. United States)
Where do I begin!This CD is not the Jesse Johnson of the 80's that you may expect.This is the Jesse we all knew he could be.This CD gives any hard rock band a run for their money!Jesse displays his talent that has been laying dormant all these years.He straight up breaks loose.From hard rock to the blues,Jesse does not disappoint. He is truly one of the greats of our time.This CD will prove that to anyone whoever doubted it.I recommend this CD to anyone who loves Jesse,the blues,hard rock,Hendrix and just flat out talent.
It's all here.Hats off to you J.J.
More Bare My Naked Soul Reviews Here
---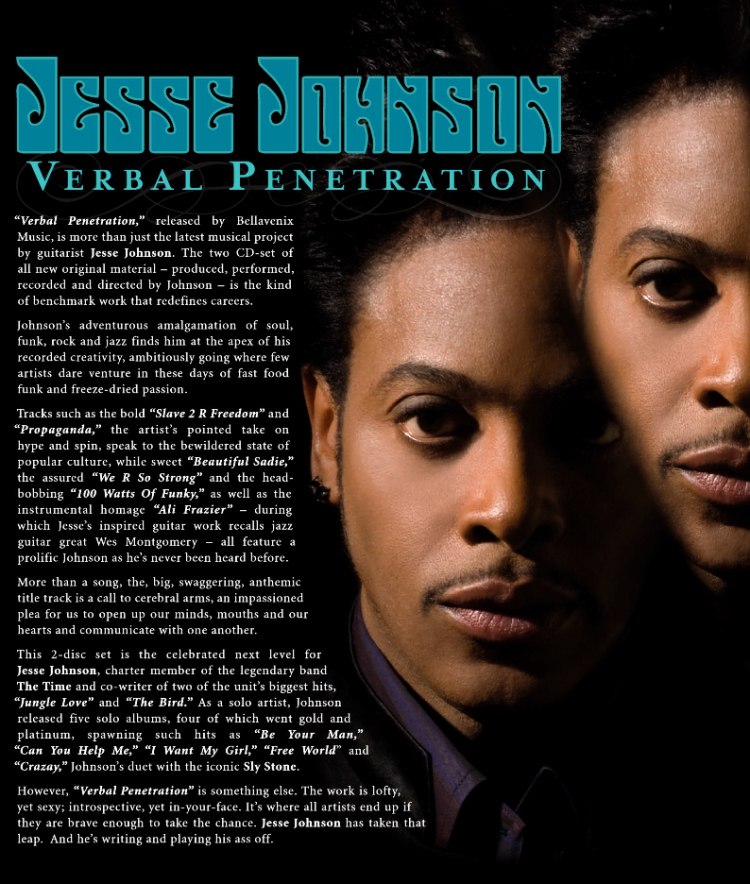 Steven Ivory has written about popular music and culture for more than 30 years. His byline has appeared in Billboard, the Los Angeles Times and Hollywood Reporter, among many other publications. As a commentator and essayist, he is a frequent contributor to various shows on National Public Radio and has appeared on CBS Early Morning, MTV, Vh-1 and the E! Channel, among other TV outlets discussing music and pop culture.
His books include unauthorized bios on Prince and Tina Turner. Ivory's first essay collection, Fool In Love: One Man's Search For Romance or Something Like It, was published by Simon & Schuster. His weekly column can be read on the Electronic Urban Report (www.eurweb.com).
Ivory's interview subjects include such musical legends as Muddy Waters, Howlin' Wolf, James Brown, Michael Jackson, Shirley Caesar, George Clinton, Chaka Khan, Prince, Whitney Houston and music mogul Clive Davis, among others. He has written essays and liner notes for the CDs of iconic artists as disparate as Stevie Wonder, Burt Bacharach, Aretha Franklin, Antonio Carlos Jobim, Quincy Jones and Lionel Richie. Forever at work on Slave To The Rhythm: An R&B Memoir, Ivory lives in Los Angeles. He can be reached at Stevrivory@aol.com
©2009, 2014 All Rights Reserved. Photo Credit: Christopher Voelker.

bio | discography | gear | publicity | store | tour | lyrics + credits | facebook | iTunes